IT Support for Healthcare and Medical Practices
Healthcare facilities and medical practices like yours, need secure, efficient IT infrastructure to treat their patients. Without reliable IT, your medical staff won't be able to treat patients effectively, leading to poor patient care and damage to your reputation. With Point to Point as your IT partner, you'll have experienced IT specialists monitoring and maintaining your IT systems 24/7/365, resulting in reliable performance and minimal downtime.
We also provide comprehensive cybersecurity solutions so your confidential patient data remains safe and we'll ensure that your organization complies with HIPAA and other local, state, and federal regulations. We'll manage and maintain your technology, so you can focus on your business, knowing that we've got you covered.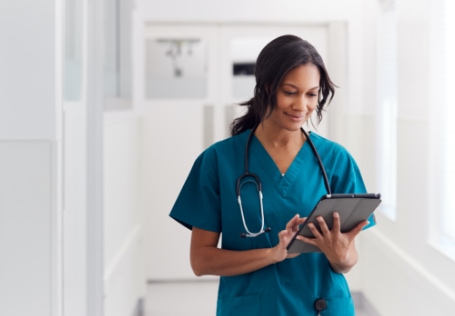 Their expertise and professionalism is superb.
"My favorite thing about Chris and Point to Point Solution is the response time. Whether by phone or Email they are always available and willing to help. I'd recommend Point to Point Solution because they value the true Customer Service model. I've been with several IT firms in the past and Point to
...Read More
"

IT Support for
Healthcare and Medical Practices
We've got years of experience in providing healthcare-specific IT solutions and support.
Cybersecurity for Healthcare and Medical Practices
We'll help secure your operations and sensitive information against cyberattacks and suspicious activities and ensure compliance to government regulations.

Remote Working & Cloud Productivity
We can help migrate your on-premise servers to cloud-based solutions, helping your team operate securely from anywhere.
How do we support and secure your business?

Your Devices

Our layered security tools protect your computers and mobile devices from unauthorized access. We encrypt your company data to keep it safe from malicious actors.

Your Data

Our cutting-edge security controls monitor and protect your business information from ransomware, spyware, and other malicious data security threats

Your Identities

We secure your accounts against compromise using multi-factor authentication, single-sign on, and conditional access. This ensures that your data can only be accessed by the right people on the right devices.

Your Infrastructure

We actively monitor your servers and network infrastructure for anomalies. We keep your operating systems, core applications, and network devices patched and up to date so your business always stays productive and protected.

Your Apps

We secure your productivity apps with Microsoft Cloud App Security. We also monitor your apps for unusual sign in activities and act upon these events should they occur, to keep your apps safe.

Supporting Your Users

Our 5-star support team provides expert service, advice, and end-user security training. Our quarterly IT strategy reviews also help you stay on top of issues, and show you how to maximize your technology.