Make your employees a part of the Cybersecurity solution instead of a liability.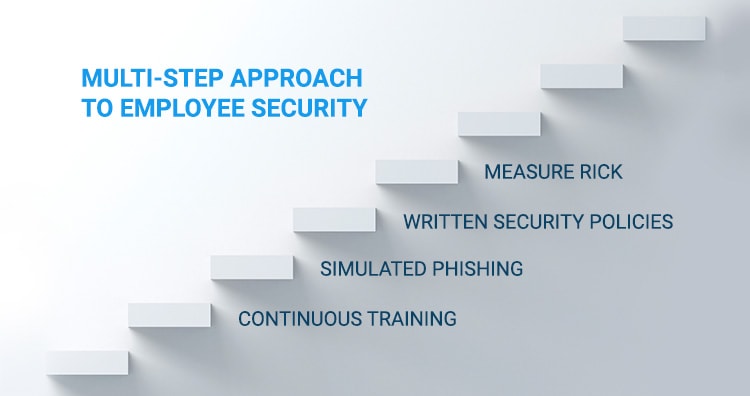 Our Employee Security Awareness Training program will lower your company's risk of human-related data breaches and malware attacks. Your employees will be more confident and secure….not to mention more efficient in their online endeavors. Employees will be part of the solution to avoiding cyber-attacks.
Employees can start, stop, continue training
System remembers where you left off
Employees work at their own pace
Training is computer based, so they can do it on their PC, Mac, tablet or Mobile Device
Employees take 20 question security quiz
Demonstrates knowledge of material - True / False & Multiple choice
Employees need 80% or better to pass
Can take the quiz as many times as needed
Random questions make each attempt unique.
Employees print training certificates
Admin Training Report
Shows scores of each employee
Security Training Topics
What is PII? Including Examples
Internal and External Threats
Phishing Scams

In-depth review
Video on spotting phishing scams
Interactive quiz - Can you spot a phish?

Phone Scams
Passwords
Wi-Fi Dangers
Physical Protection – Devices
BYOD – Dangers
Clean Desk Policy
Many more continually updated topics
Ongoing Breach Prevention
Continuous Security Training, Testing and Assessments
Continuous Security Training
Weekly Micro Security Training
1-2 Minute Bite-Sized Training Modules
Ongoing Training Keeps Security Top of Mind
Rich Multi-media Makes Topics Interesting
Monthly Employee Security Newsletter
Unique, Non-Technical, Magazine-style Newsletter
Reinforces Security Training
Simulated Phishing Attack Platform
Fake Phishing Emails Test Employee Awareness
Ability to Track and Report Employee Actions
Annual Security Risk Assessment
Risk Assessment Report with Security Recommendations
Threats Analysis / Risk Determination
Security Policies and Procedures
Electronic Employee Acknowledgment of Policies